Diesel Transfer Unit with Trailer 2000L
DMPFT2000
RRP$15,360
The Polymaster Diesel 2000ltr Dual Axle Trailer is rated to 2,800kg with a 660kg TARE and is built tough. Road registerable (VIN plated) and manufactured from heavy duty hot dipped galvanised steel. Pump, meter, hose and auto nozzle is stored securely in a lockable Poly toolbox.  Safety features includes brakes, lights and reflectors, 7 pin flat trailer plug and safety chain.
The standard trailer you see here is jam-packed with features and includes:
A 12V Diesel Piusi Fast Flow Pump (85LPM)
Auto shutoff nozzle with 6m hose and reel
Mechanical Fluid Meter
Earthing strap
Compliance plate – Road registerable
Lockable Filler Cap
Lockable Poly Toolbox mounted forward
Breather Vent
In-molded baffles
15″ wheels – 5 stud pattern
Electric brakes – all wheels
Emergency breakaway protection
Jockey wheel
Customised Trailers
On the same galvanised frame we can customise a diesel set up for you. You can change the design to incorporate:
Different pumps – electric or pull start petrol or diesel motors
10mtr retractable Piusi hose reel
Spare wheel (mounted forward)
and much more
Feel free to call our Customer Service team on 1800 062 064 for any assistance.
Features
POLYETHYLENE TANK
Tough and durable tank, moulded in one piece from certified diesel-grade polyethylene
BAFFLES
Moulded internal baffles for vehicle stability
HOSE REEL (OPTIONAL EXTRA)
25mm hose diesel hose reel- 10m retractable length
DUAL AXLE HEAVY DUTY SUSPENSION
with 15″ Land Cruiser rim and tyres (optional off road tyres available)
HOT-DIP GALVANISED TRAILER
gross weight 2.8 tones
ELECTRONIC BREAKAWAY SYSTEM
(available on DMPFT2000)
JOCKEY WHEEL
Heavy duty jockey wheel
CHAIN
Trailer Safety Chain
B'UTE BOX
B'ute box containing auto shut off nozzle, 6m hose as standard, 4m battery lead, mechanical digital fuel gauge (optional), diesel pump with by pass valve & integrated on/off switch, flow rate 85lpm & duty cycle 30 mins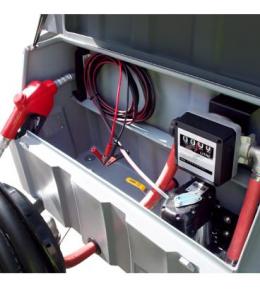 Dimensions
4460L x 1970W x 1650H
Have a Custom Order?
Have a problem that you think this product can solve? Our team can guide you through the process of bringing that solution to life.
We know that sometimes solutions involve some out of the box thinking, we work with you to make a custom solution that matches your exact situation and actually solves your problem. Fill out this form and our team will be in touch.