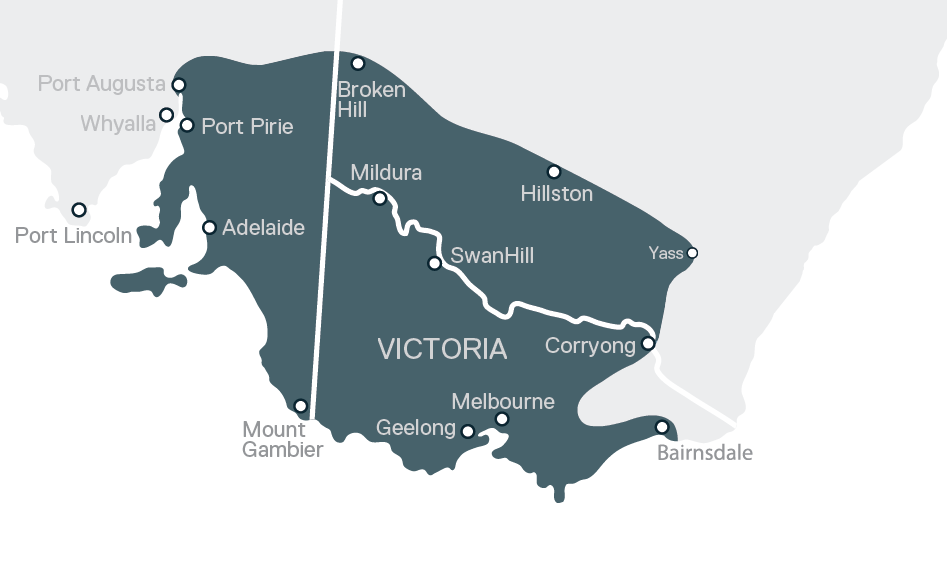 How to prepare for the site delivery
Congratulations for purchasing one of Polymaster's Quality Rainwater Tanks. If this product is installed correctly and regularly maintained, it should give you trouble free service for years to come.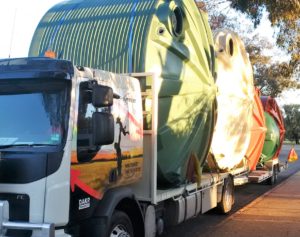 Ensure access
Our tanks can be quite large making the trucks loads very high and long and we take the job of delivering your tank safely very seriously. The clearance required for truck and trailer is 19 metres long, 5 metres high and 3.5m wide/ Ensure there are no low-lying branches or powerlines. Make sure the gate/entrance is wide enough and there is enough turning area for the 19m long truck and trailer (size of a normal roundabout)
View Range
Ensure access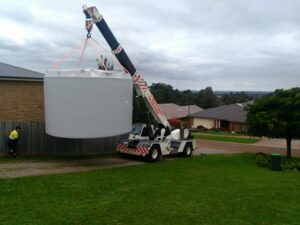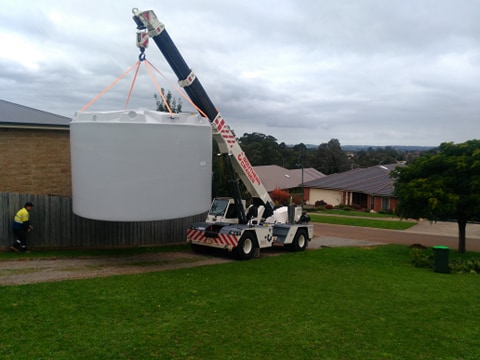 Prepare your tank site
The tank site must be firm, level and flat. A well compacted sand base or other consolidated fill such as crushed dust is recommended. This fill must be free of any rocks, stones or any sharp objects. The base must be 75mm – 100mm deep and at least 600mm larger in diameter than the tank base. The outside of the base must be supported by a retaining wall to prevent erosion.
View Range
Prepare your tank site
Delivery FAQ's
How do I know when my Rainwater Tank will be delivered?
Our logistics department will be in contact with you 7 days prior to delivery to;
confirm your delivery address
advising access guidelines for delivery to your property
if you will be onsite when the delivery arrives
We can even offer a courtesy call before your delivery.
How many people are required on site for tank delivery?
The good news is that no-one is required to help the driver unload.  Please provide a free and easy access to your site and an identified 'marked' area for the tank to be unloaded. Our driver will unload as close as possible your desired location. If the driver deems the desired location to be too difficult to manoeuvre the truck into, the driver will identify a safe and secure place to unload within your property. Please note: The driver is unable to physically position the tank onto the 'pad'. Exact positioning of the tank on the pad remains the responsibility of the property owner.
My site isn't ready, can you store the tank until we are ready?
Yes, we can for a storage fee of $220 inc gst per tank per month.   Normally once the tanks have been made and fitted out according to your specifications it is invoiced and shipped.
What are the unloading procedures for Self-bunded tanks?
Our  1,500ltr to 10,000ltr self-bunded tanks are always despatched on a pallet. This means that they can be unloaded with either a forklift or crane with spreader bar. It's important that it is only lifted from underneath the tank unless there are purpose-built lift lugs welded on.  For tanks above this size please refer to the lifting plans.
What is the cost to deliver my tank to site?
Polymaster offers free delivery to site in Victoria and parts of South Australia and New South Wales for tanks over 13,000ltr – 50,000ltr tanks (remote areas excluded). For tanks smaller than 13,000ltr, there is a $110 exc GST charge to deliver to site. The areas covered in South Australia and New South Wales are the southern parts - covering from about Corryong on the Victorian/NSW border up to Yass, across to Hillston and up to Broken Hill, then down to Mildura. From Broken Hill, across the SA border to Orroroo, then down to Port Pirie. Anything underneath this in South Australia we cover. For all rainwater tanks, delivery is free store within these areas. For deliveries to areas outside of Victoria, Southern South Australia and Southern NSW, freight is additional. Contact us for your freight quote.
What do I do if I need a Chemical tank or Diesel/AdBlue tank delivery?
Every industrial tank is different, Contact the
industrial team
to ask questions about your delivery.
What areas in Victoria are affected by National Heavy Vehicle Regulator and require Oversize Permits?
Otway and Mountainous Areas (highlighted in Pink)
Melbourne and Geelong urban areas (highlighter in Green)
Due to these restrictions, Polymaster will be required to transport some of our larger tanks with the aid of escorts or pilots. The regions in pink on the Vic Roads map below indicate where these limitations are in effect, while red lines on the map indicate additional specific roads where restrictions apply.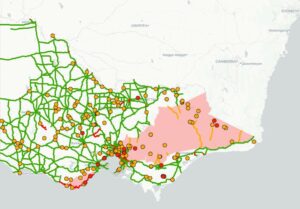 Are there additional charges if a permit is required?
The cost (if required) of a permit and/or pilot vehicle will be included in your quote that you will receive from one of our representatives.
How do I know if my area requires a permit?
If you reside in areas such as Otway and Mountainous Areas, or Melbourne and Geelong urban areas the Polymaster team will investigate on your behalf to make sure if there are any permits and/or a pilot vehicle that is required. If so, they will contact you. This process will take 1-2 weeks approximately.
What rainwater tanks are affected if I require a permit?
In some areas, it is more cost-effective to purchase multiples of the 13,600ltr tanks than an oversize one.