Level Indicator – Levetator
LT01
RRP$260
A simple pulley and counterweight system with free hanging indicator beside the tank, this indicator shows actual fluid levels and is constructed from trouble free aluminium, stainless steel and treated cord.
The weighted float and indicator are connected to the counterweight by separate cords, each cord running over a pair of pulleys. When the float is half-immersed everything is balanced. Rising liquid level lifts the float up, the counterweight moves down, and the indicator keeps pace with the float. Falling liquid levels causes the weighted float to pull the counterweight up, and again, the indicator keeps pace with the float. At all times the indicator matches the liquid level exactly.
FEATURES:
Highly visible – the bright aluminium indicator with its red band can be seen from afar.  The band can even be seen at night due to the highly reflective tape that is used
True reading – the levetator floats at the exact water level – what you see on the gauge is what you have in the tank
Simple and reliable – no batteries to change, just a simple float/weight/pulley system that works year in and year out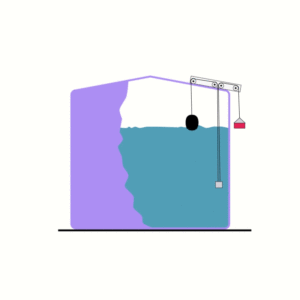 What makes Polymaster tanks the toughest?
Self-supporting roof design means no support poles are necessary
Extra thick corrugated walls for maximum strength
Double strength UV+ resin ensures ultimate protection against Australia's harsh sun
One-piece construction with no joins, seams or part-lines
Certification to AS/NZ4766 tank standard
22 COLORBOND® colours
20 Year Warranty for peace of mind! *conditions apply
Fast delivery of rainwater tanks – delivered within 21 days
Australian Made

Fast Delivery
Up To A 20 Year Warranty
Have a Custom Order?
Have a problem that you think this product can solve? Our team can guide you through the process of bringing that solution to life.
We know that sometimes solutions involve some out of the box thinking, we work with you to make a custom solution that matches your exact situation and actually solves your problem. Fill out this form and our team will be in touch.