Diesel Transfer Unit with Trailer 1200L
DMPFT1200T
RRP$12,500
Comprehensive packages engineered to service a wide range of heavy plant & machinery.
Features of the Bulk Diesel Transfer Units with Trailers include:
Tough and durable one-piece moulding
Moulded internal baffles for vehicle stability
Can be strapped or pin mounted to vehicles
Certified diesel-grade cross linked polyethylene
Lockable filling port
Range of 12 or 24 v pump options available
Standard pump features:
85LPM, 12V
6 metre hose
Auto shut off nozzle
*Hose reels and spare wheels are also avalaible as optional extras
Features
Polyethylene Tank
Tough and durable tank, moulded in one piece from certified diesel-grade polyethylene
Hose REEL (optional extra)
25mm hose diesel hose reel- 10m retractable length
B'ute box
B'ute box containing auto shut off nozzle, 6m hose as standard, 4m battery lead, mechanical digital fuel gauge (optional), diesel pump with by pass vale & integrated on/off switch, flow rate 85lpm & duty cycle 30 mins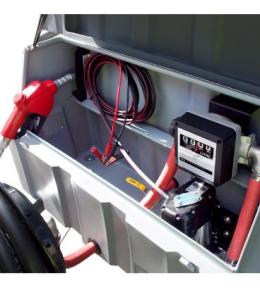 baffles
Moulded internal baffles for vehicle stability
Hot-dip galvanised trailer
gross weight 2 tones
Hydraulic braking system
(only available on DMPFT1200)
Chain
Trailer Safety Chain
Jockey Wheel
Heavy duty jockey wheel
Duel Axle Heavy Duty Suspension
with 15″ land cruiser rin and tyers (optional off road tyres available)
Dimensions
3940l x 1770W x 1500H
Have a Custom Order?
Have a problem that you think this product can solve? Our team can guide you through the process of bringing that solution to life.
We know that sometimes solutions involve some out of the box thinking, we work with you to make a custom solution that matches your exact situation and actually solves your problem. Fill out this form and our team will be in touch.