Eliminate OH&S issues associated with IBC handling with a purpose-built IBC bund enclosure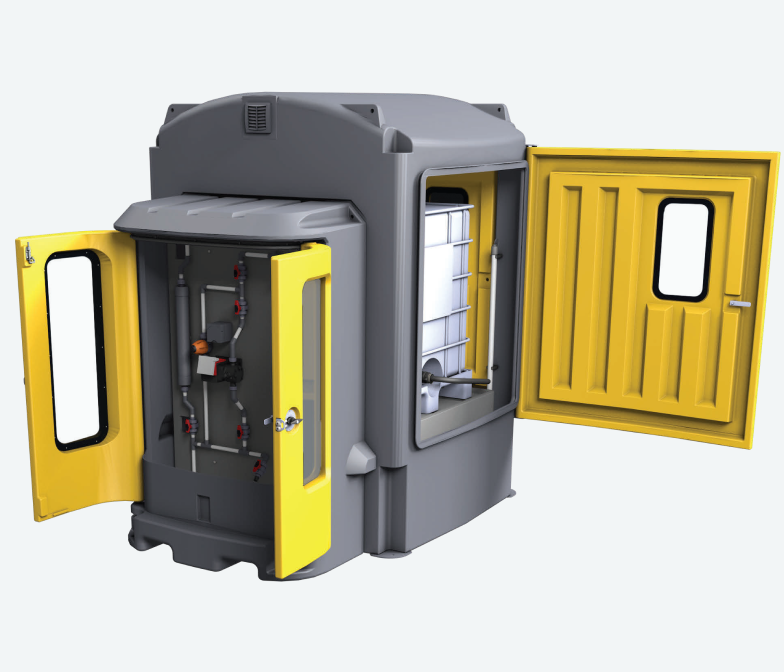 The Intermediate Bulk Container (IBC) is the number one container for storing and shipping chemicals worldwide. IBC's are regarded as an economical way to transport 1000ltrs of chemical to all corners of the globe. They are compact and take up no more than the footprint of a standard shipping pallet.
Despite some obvious benefits, there is a downside to this versatile container. Regulatory bodies also target the IBC because it can be mishandled, resulting in spills that can contaminate the surrounding ground, including waterways. They can also be a cause of workplace injuries through skin and eye contact when emptying the chemicals from it.
Organizations such as Victoria's EPA have developed and implemented Liquid Storage and Handling Guidelines AS3780-2008 to address specific issues around IBCs. These guidelines set out clear instruction on how to correctly store and handle these chemical containers for everyone's safety.
Up until now, there has been a limited range of free-standing, all-weather units that can encase an IBC and at the same time provide safe and clean dispensing options.
The Enclosed IBC Bund addresses all concerns around the IBC.
Complete weather protection stops rain from entering the storage unit as the IBC is contained within an enclosed bund.
In the event of an IBC rupture, the unit would contain the entire contents within itself, preventing any chemical entering stormwater or surrounding area, as the design exceeds AS3780-2008, The Storage and Handling of Corrosive Substances, bunding requirements of 110%.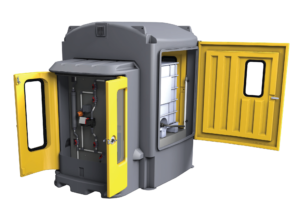 Operators have free and easy access via outward swing doors. Each door has clear viewing panels so that an operator can see inside without putting themselves at risk in the event of a spill.  The unique door design acts as a splash guard, ensuring no chemicals can exit the unit.
The wide-opening doors allow an IBC to be easily forklifted into position from either side or rear. Extra clearance on all sides of the opening is advantageous to outside storage where forklifts may be operating on uneven ground.
All weather, safe, secure IBC storage and decanting solution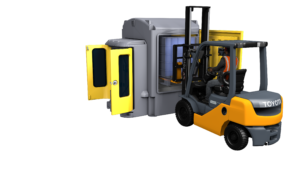 The Enclosed IBC Bund includes a built-in vent to expel gases and a 250ltr day tank for continuous dosing if incorporated into an in-line process.
The day tank has safe, quick connect/disconnect hoses to minimize spillage/splashing and a sight tube for the operator. A mounted audible and visual low-level alarm can be viewed through viewing panels.
The front cabinet can either accommodate a fully customized dosing system or an off-the-shelf dispensing kit suggested by Polymaster that suits chemicals.
For further information on the Enclosed IBC Bund,
contact the Engineered Solutions team on 1800 062 064